From the outset, REFORM Skincare has had Phyto Botanical Gel in its portfolio of products.  Not only does it have great benefits for your skin but it is a very nice product that sits very well on the skin.  It has an almost silky feeling and can be used for both night and day.  If your skin needs a bit of a lift (or you do!), this product can do that.  It really is nice!
Here at REFORM HQ we tend to advise people to use Phyto Botanical Gel in the morning and follow up at night with our Retinol 1% Creme.  Our skin can suffer a bit from discolouration and pigmentation over time and as we age this discolouration and age spots can get darker and more noticeable.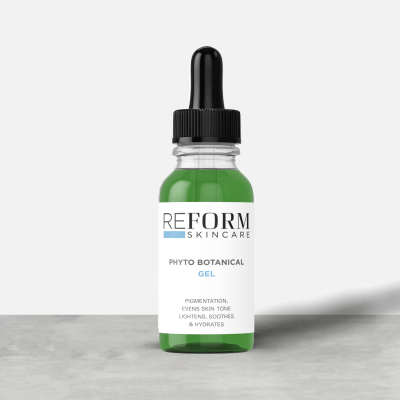 The kojic acid in this gel is helpful for sun damage and age spots.  It gives an element of protection (not to be confused with SPF), and has a lightening effect.  With the use of Retinol (this has a minor epidermal peeling effect), they combine with each other to lighten, brighten your skin.
Alpha Arbutin also has a lightening effect and can fade sun damaged and pigmented skin.  This supresses the enzymes that stimulate skin melanin effectively slowing down the pace of skin pigmentation.
Thyme Extract has antibacterial properties and has been used for centuries for bathing and enhanced beauty.  We believe that this is what gives Phyto Gel that soothing, silky, delicate feel!
We have also noticed that our Phyto Gel has a far greater reach in the US and is not a popular in the EU.  We think that the EU simply has not caught on to the benefits of this product yet, but we are sure that it is only a matter of time.
Why not try this product for yourself.  We think its worth it.
Check it out HERE