Have you met our REFORM Skincare Salicylic Acid Foaming Cleanser? For those of us of the oily skin persuasion, Salicylic Acid can be a real game changer. Blemishes can be a headache at any age. It's important to have the right tools to help your skin unclog and repair.
What is Salicylic Acid?
Salicylic acid is derived from willow bark. It is a beta-hydroxy acid. It belongs to a class of drugs known as salicylates. The acid is a compound that encourages the skin to carry out its own exfoliation process. Salicylic Acid works with the skin to shed dead cells from the top layer and by decreasing redness and swelling (inflammation).
Salicylic Acid is considered a BHA. The science: the beta hydroxy acid (BHA) part of the molecule is separated from the acid part by two carbon atoms, as opposed to an alpha hydroxy acid where they're separated by one carbon atom (AHA). This structure is important because it makes salicylic acid more oil-soluble. This lipid solubility means that the Salicylic Acid can cut through the sebum, or oil, which your skin naturally produces.
How does Salicylic Acid work?
When your pores get plugged with dead skin cells and oil, blackheads, whiteheads, or pimples often appear. Salicylic acid works by penetrating your pores and dissolving the waste matter. Salicylic acid also works as an exfoliant as it is considered a keratolytic medication. Keratolytic medications cause softening and sloughing of the top layer of skin cells. This is important as a contributory cause of acne is skin cells not going through a full healthy cycle. Rather than sloughing off, these cells stick together and clog the pores, creating cysts and blackheads. By working to loosen these skin cells, Salicylic acid works to dissolve blackheads.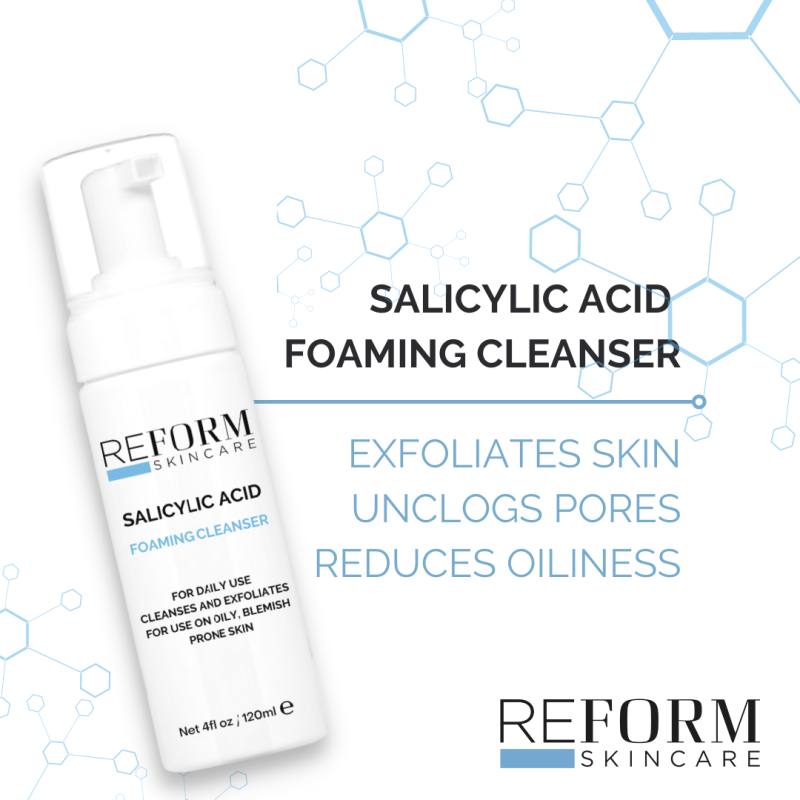 Why use Salicylic Acid in a cleanser?
Overuse of Salicylic Acid can lead to over-exfoliation. When used in a cleanser, the acid has a shorter exposure time. This means it does not sit on your skin for too long allowing your skin to loosen cells it needs without over-doing it.
How Strong Should Salicylic Acid Be?
2% is considered to be optimal and useful in treating skin concerns. The REFORM Skincare Salicylic Acid Foaming Cleanser contains 2% Salicylic Acid. Our cleanser is formulated for daily use. To use it simply apply 1-2 pumps into the fingertips and massage onto face in a circular motion, working into a lather. Rinse thoroughly with water and pat dry! You can also find our Salicylic Acid Cleanser as part of our REFORM Skincare Anti-Blemish Kit.